This article is in need of expansion and cleanup.

Please be sure to follow the guideline.
Austin Butler
as Wilke
Nickname:
(Blank)

Birthdate:
August 17, 1991

Occupation:
Actor, SInger, Model

Years Active:

2005-present
Personal Life
Edit
Austin Butler was born on August 17, 1991 in Anaheim, California to parents Lori and David Butler. He has one sibling, an older sister named Ashley (born in 1986), who has done background-acting with him on Ned's Declassified School Survival Guide.
When Butler was 13, he was approached by a representative from a background-acting management company at the Orange County Fair, who helped him get started in the entertainment industry.He found that he really enjoyed it, and soon began taking acting classes to develop his talent.
In 2005, after working as an extra on several TV shows, Butler landed his first regular job as a background actor playing the role of Zippy Brewster for two seasons on Nickelodeon's Ned's Declassified School Survival Guide. His friend on the show, Lindsey Shaw, introduced him to her manager, Pat Cutler who immediately offered to represent him, and from that point on, Butler began taking acting seriously as a career. Two years later in 2007, after performing in several commercials, Butler landed his first movie role in the short film The Faithful playing the role of a dog, Danny, who later turns into a human being. In May of that year, Butler landed a guest starring role on the Disney Channel series Hannah Montana playing the role of Derek Hanson opposite actress Miley Cyrus, and in September of that same year, he portrayed "Jake Krandle" in the episode "iLike Jake" on the Nickelodeon series iCarly. In February 2008, Butler landed a recurring role on the Nickelodeon show Zoey 101 playing James Garrett, the love interest of Jamie Lynn Spears's character Zoey, and in March of that year, he appeared in an episode of Out of Jimmy's Head playing the role of Lance in the episode titled "Princess". In July 2009, Butler starred in 20th Century Fox's family adventure movie Aliens in the Attic (originally titled They Came From Upstairs), portraying Jake Pearson, alongside Ashley Tisdale, Carter Jenkins, Robert Hoffman, Kevin Nealon and Doris Roberts. In the movie, his character, along with his family, battles to save their vacation home and the world from an alien invasion. That same summer, Butler appeared in the starring role of Jordan Gallagher on the popular, but short-lived ABC Family series Ruby & The Rockits, alongside David Cassidy, Patrick Cassidy and his good friend, Alexa Vega. Butler portrayed the cousin of Alexa's character Ruby, whom he has a crush on, reasoning that it was because he never grew up with her.
In February 2010, Butler landed a recurring role as Jones on the CW network series Life Unexpected, and that same month, he appeared in an episode of Wizards Of Waverly Place titled "Positive Alex" where he played Alex's new crush, George. In March of that year, it was announced that Butler had been cast as "Cameron" in a pilot for another CW network how called Betwixt, but the show was not picked up by the network. In June of that same year, Butler appeared in two consecutive Jonas L.A. episodes where he played Stone Stevens, and in December of that year, Butler's career took a dramatic turn when he appeared in guest-starring roles on CSI: Miami and The Defenders. In the spring of 2010, Butler's Aliens in the Attic co-star Ashley Tisdale invited him to audition for a lead role in the film Sharpay's Fabulous Adventure, a spin-off of Disney's popular High School Musical franchise that followed the adventures of Sharpay Evans after high school as she tries to get her big break on Broadway. In the film, Butler played Peyton Leverette, a handsome student filmmaker who finds Sharpay nearly as fascinating as she finds herself.
In December 2010, Butler told Week In Rewind about landing his role in Sharpay's Fabulous Adventure - "I had worked with Ashley once, and then I heard about the movie, because she called me and said, 'Austin, I want you to come and read for the director for this--I think you'd be perfect.' So, I went and met with the director, and it went really well, and I ended up doing the movie." The film wrapped production in July 2010 and was released direct-to-DVD on April 19, 2011.
In 2011, Austin Butler starred in the Lifetime movie Bling Ring as the lead character, Zack Garvey, who steals millions of dollars worth of clothes and accesories from celebrities, including Paris Hilton, Audrina Patridge, and Orlando Bloom.
Butler attended "regular" school until the 7th grade, when, at the age of 13, he left to be home-schooled in order to accommodate his work schedule. He continued his home-school education until 10th grade when, at the age of 15, he took the CHSPE to finish his formal high school education, and hopes to eventually attend college.
Butler enjoys creating and recording music, and began playing the guitar at the age of 13 and playing piano at the age of 16. He enjoys collecting guitars, and his other hobbies include outdoor activities that keep him in shape such as basketball, hiking, and cycling, as well as exercising in his home gym.
Austin plays Wilke, a rich friend of Toby's, who happens to be in a band with him, in Switch at Birth.
Episodes in Switched at BirthEdit
Coming soon!
Filmography
Edit
Year
Title
Role
2007
The Faithful
Danny
2009
Aliens in the Attic
Jake Pearson
2010
Betwixt
Cameron
2011
Sharpay's Fabulous Adventure
Peyton Leverett
The Bling Ring
Zack Garvey
2012
My Uncle Rafael
Cody Beck
You Again
Ben
Life Life in in Space Space
Assistant Shnotzy
Photo Gallery
Edit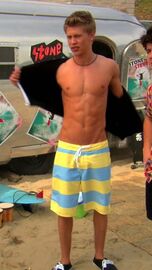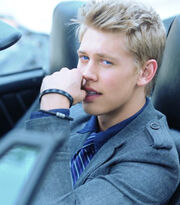 ---