Natalie Pierce is a deaf character who appears in The Awakening Conscience, the second episode of Switched at Birth Season 2. She is portrayed by Stephanie Nogueras.
When Bay convinces to be in the Carlton School for Deaf Kids' pilot program, Natalie instantly does not take a liking to her and tries everything to get her out of the school.
This section needs more information to complete her story.
Season TwoEdit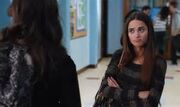 In the episode Duel of Two Women Bay finds herself on the wrong end of Natalie's wrath, forcing Melody to take everyone on a Tolerance Retreat to help bridge the divide between them. After the retreat when they are back at school, Bay and Natalie declare a truce.
In the episode The Acquired Inability to Escape Kathryn offers to direct Carlton's school play since the school can no longer afford a drama teacher. Unfortunately, Bay who is still trying to fit in with Natalie and her friends is embarrassed by Kathryn's presence and pushes Kathryn away. But in the end Bay, Natalie and others students accept Kathryn´s help.
In the episode Human/Need/Desire while Bay and Natalie are selling roses for fundraiser, Natalie reveals that she is interested in a girl.
In Uprising, Natalie appears as one of the deaf students involved in the movement to retake Carlton. She is also one of the deaf students who does not want the pilot program students, including Bay, to be kicked out, but she is overruled. In Introducing the Miracle, after the Daphne negotiation with the school board, the council is committed to keeping the Carlton open, but with only 50% of deaf students.  Natalie is not enthusiastic about this. In As The Shadows Deepen, when Bay decided to set up the deaf day at Maui to get new customers, Natalie also went there.
Season ThreeEdit
In Drowning Girl,
In Your Body Is a Battleground, Natalie finds herself with the tires of her car cut by a mysterious vandal.
In Like a Snowball Down a Mountain, Bay goes to Natalie on advice about Matthew and Emmett and she mentions that she's out to her parents and in a relationship with a girl. Natalie says that while she does not condone what Matthew did, she believes that Bay and Emmett need to let Matthew sort this out on his own since coming out for everyone is different. Later, after Emmett tells Matthew that he will not report him, Matthew leaves and Natalie walks in and tells Emmett that things will get better. In You Will Not Escape,
In Girl on the Cliff, Natalie appears with her girlfriend, Hilary. The Prom King and Queen are announced to be Bay and Emmett, though Bay does not want this. Natalie responds by offering to be Queen, and Hilary offers to be king. They then make out in the school hall, with everyone cheering on. Later, it is discovered that the school has enacted a dress code for the Prom. All boys must wear tuxedos and all girls must wear dresses. Hilary, however, wants to wear a tuxedo. She hates dresses and hasn't worn one since she was 2. Because of this, she does not want to go to prom, much to Natalie's disappointment. However, Bay, Natalie and Mary Beth decide to wear tuxedos to the prom as a show of support. At the Prom, however, they are turned away, so Bay, Emmett, Mary Beth, Travis, Natalie and Hilary decide to have an outside prom. Other students, including Sharee and Matthew, join them. Natalie and Hilary have much fun and Natalie thanks Bay for all her support.
In And Life Begins Right Away, Natalie appears at the graduation. As the students receive their diplomas, Sharee sings, "Stand By Me", while Natalie interprets.
Season FourEdit
In I Lock the Door Upon Myself,
In Black and Gray,
In To the Victor Belong the Spoils,
Relationship
Edit
Family MembersEdit
To be added
Hilary and Natalie are in a lesbian relationship together and are happy .
Friends & RivalsEdit
Bay and Natalie started out as rivals. Their bickering landed a group of students, including Daphne, Emmett, and Noah, in the woods for a retreat. Once they returned, Bay and Natalie realized they had a lot in common and they made a truce so there would be no more retreats. After that Bay and Natalie became good friends. Bay even supported Natalie and Hillary in their senior prom, by wearing a Tuxedo, much to her delight and gratitude.
To be added
To be added
To be added
References
Edit
To be added