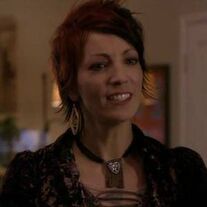 Information and Plot
Edit
Olivia is the hard of hearing ex girlfriend of Cameron Bledsoe. She is much more laid back than Melody , and as such takes a more laid back approach to rasing Emmett while he is living with her and Cameron. Olivia goes so far as to offer Emmett alcohol to ease his stress of speech therapy. A huge Bledsoe family argument breaks out in The Art of Painting. When the whole gang is at the Regina's show at the art gallery, and Melody proceeds to smell alcohol on her son's breath. Olivia has to beg Bay not to tell Cameron that there is marijuana in the Bledsoe garage, stating she is just holding the pot for a friend. Cameron is informed, and this leads to a rift between both couples (Cameron and Olivia as well as Emmett and Bay) 
Olivia started going deaf in high school, She also seems to have been promiscuous when she was younger.
Physical Apperance and Personality
Edit
Olivia has short dyed hair and is very laid back. She has no problem letting Emmett drink or holding pot for a friend. She is also very laid back when it come to sex going to far as to invite Bay to spend the night with Emmett. She also is a big fan of art. 
T.L. Forsberg has not been credited as Olivia since Game On.