Stephanie Nogueras

Nickname:
 
Stella

Birthdate:
 
November 18, 1989

Occupation:
 

Model, Actress, & Activist

Website:

www.stephanienogueras.com
Stephanie Nogueras is an actress of Puerto Rican descent who plays Natalie Pierce on the show Switched at Birth. Born in Camden, New Jersey and raised in Pine Hill, New Jersey and also Frederick, Maryland. She is profoundly Deaf and is fluent in American Sign Language. She has lived knowing nothing in life would limit her ability to succeed.
Personal Life
Edit
Many had encouraged her to pursue a modeling career because she was naturally beautiful, extremely confident, and the camera loved her. Taking the advice, she stepped into the spotlight and won a modeling competition at her college RIT; Rochester Institute of Technology, where she earned a degree in Liberal Arts. She gained more experience and confidence shooting with student photographers on campus and was able to put together an impressive modeling portfolio. With that in hand, more opportunities arose to shoot with professional photographers, stylists and designers.. Philadelphia Celebrity stylist/photographer Laurentius gave Stephanie her first modeling break by using her in a Hair marketing campaign for his Laurentius Salon. The images were stunning and beautiful and gave her a lot of mileage. Stephanie explains, being Deaf and Petite, (double challenges) she has faced her share of rejection and obstacles in the modeling world, however in spite of her deafness, she continued to persevere. In 2011 her images landed her on the cover of three magazines: Ann Laurens "Bella Petite" featuring Petite Models, "I.D.E.A.L."(Individuals with Disabilities Express About Life) and "Life In Sight" a German Deaf Lifestyle Magazine.Stephanie has also been interviewed by Style & Celebrity Entertainment News blogs: "Fashion News Live", "Isobella Jade" and "Jay Swag." ​​She has become a Deaf role model raising Deaf Awareness and respect in both the Deaf and Hearing Communities. Stephanie is an active fundraiser for a Deaf school in Puerto Rico. A newcomer to Los Angeles of only 6 months, Stephanie who lives on a real farm in New Jersey and never even dreamed of acting, got bit by the acting bug after doing 'Extra' work on ABC/Family's "Switched at Birth" just one day. She convinced her model manager to let her audition for  the 'Principal role' of 'Natalie' going up against Deaf actresses with real acting experience. She did and the rest is history. [1]
Model, Actress, and Activist.
Episodes in Switched at Birth
Edit
The Door to Freedom
Duel of Two Women
Dressing for the Charade
Human/Need/Desire
Tight Rope Walker
Uprising
Introducing the Miracle
As The Shadows Deepen
Filmography
Edit
Grimm "One Night Stand" - Guest Star "Elly" on NBC (November 15, 2013)
Photo Gallery
Edit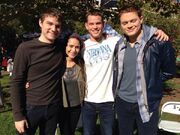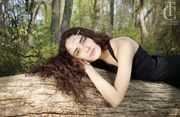 References
Edit